Other
Devon Wildlife Trust : Dartmoor's Magnificant Mires
Narrated by Rob Brown, this film was produced by Devon Wildlife Trust in partnership with Dartmoor National Park Authority, Dartmoor Preservation Association and the Duchy of Cornwall.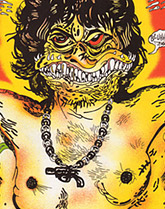 Dead Duck
Savage Pencil presents Antiquack: The Dead Duck Collection, narrated by Rob Brown. Songbook Series, EMI.
Charm Offensive
Rob was the sinister offscreen voice heard throughout Charm Offensive, an entry in the 48-Hour Film Project.
Mind Candy : World of Warriors
Journey across the wildlands and amass an army of history's greatest warriors in this epic combat and adventure strategy game. Voiced by Rob Brown.